CRM, the key to understanding customers' requirements better
Customer relationship management (CRM) is a strategy that enables you to understand customers' requirements and behaviors to develop stronger relationships with them. Although CRM is more of a business philosophy, the success of your CRM initiative depends on the use of the right software solution. A robust CRM is the key to building enduring relationships with customers and improving their loyalty. To earn customer delight consistently and take your business to the next level, you need the right CRM partner. Salesforce is one of the top CRM platforms, with its ever-expanding range of features and ease of interoperability with partners.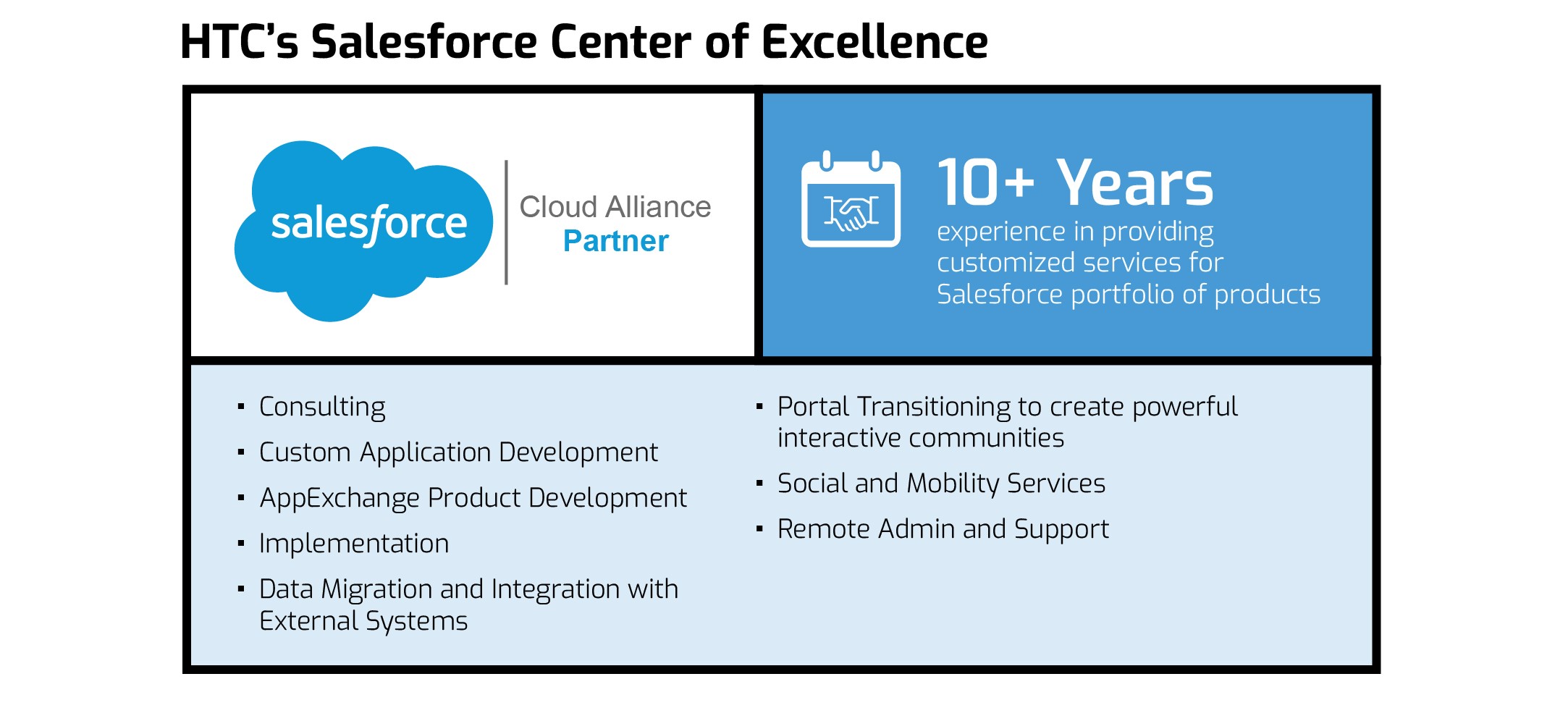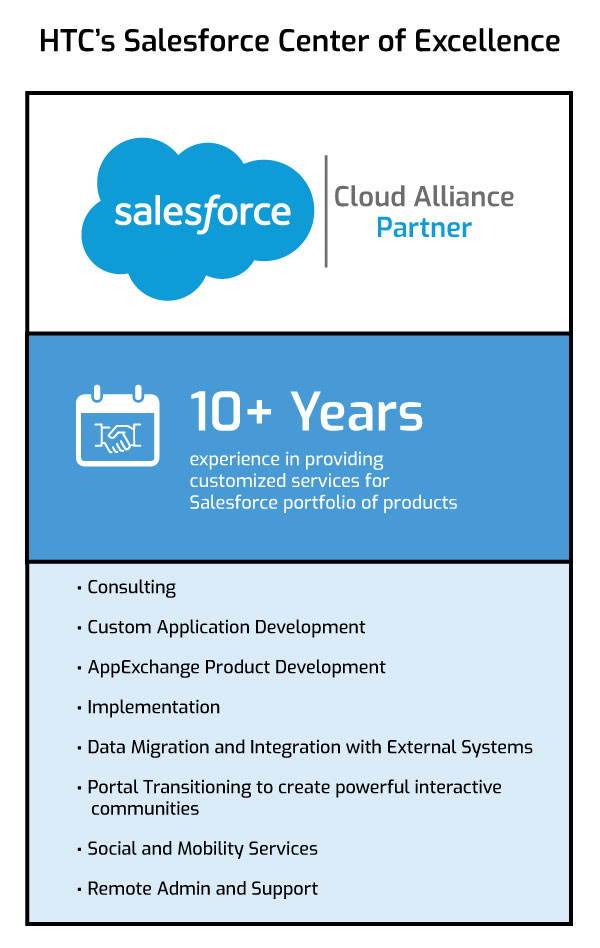 Reinforce CRM with Salesforce and HTC
HTC, a Cloud Alliance Consulting Partner of Salesforce, has over a decade of experience in providing a wide range of customized services for the Salesforce portfolio of products. This includes – Salesforce Lightning Platform, Sales Cloud, Service Cloud, Marketing Cloud, Community Cloud, Analytics Cloud, Financial Services Cloud, and Salesforce AppExchange.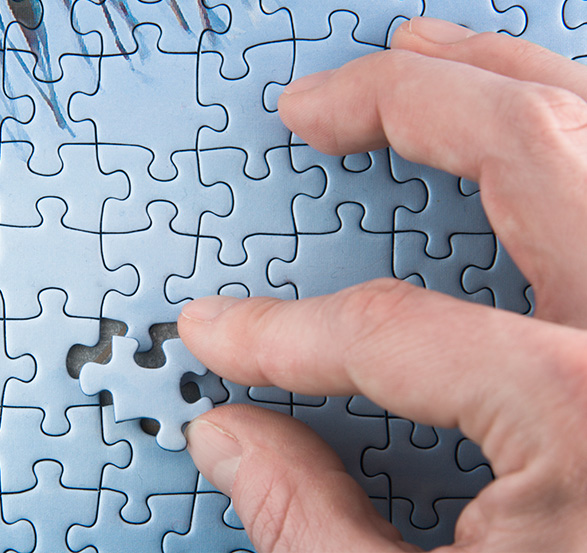 Our Salesforce services
Our Salesforce services include:
Consulting
Custom application development
AppExchange product development
Implementation
Data migration and integration with external systems
Portal transitioning to create powerful interactive communities
Social and mobility services
Remote admin and support.
Additionally, we also offer the following customizable tools/ solutions:
SF Connector

Seamlessly integrates Salesforce with several third-party business application endpoints in real time to break data silos and unlock productivity gains. It performs fast data synchronization with enhanced performance capability
integration and without middleware dependency. SF Connector's Extract, Transform, Load (ETL) module built in the Salesforce environment manages:
Data mapping
Data transformation
Dynamic/ JSON generation
Data connect – direct connect via http and JAVA component connect via TCP/IP
EasyQuote

The easy-to-use quotation-generation solution built on the Salesforce Lightning platform and based on the Pricing/ Quoting Template. It has quotation templates built by configuring pricing formulae, pricing input and validation
rules, and helps to determine the exact quotation price for the products. Your sales personnel can select the appropriate template to dynamically generate the quotation and derive Net Operating Profit for the product.

Consultation and Implementation

Business analysis, requirements gathering, solution implementation, legacy modernization, merging Salesforce organizations, Einstein analytics

Custom application development

APEX, Visualforce, Web services, SFDX, Communities, Lightning components, Heroku and other frameworks

AppExchange product development

Product development and hosting services on AppExchange marketplace

Remote admin and support

Available for customers anywhere across the globe.
Our Salesforce Capabilities:
Salesforce CRM solution consultation and Implementation
Business analysis, requirements gathering, solution implementation, legacy modernization, merging Salesforce organizations, Einstein analytics
Custom application development
APEX, Visualforce, Web services, SFDX, Communities, Lightning components, Heroku and other frameworks
AppExchange product development
Product development and hosting services on AppExchange marketplace
Data migration and integration with external systems
Direct integration from Salesforce to other systems, migration of data from legacy systems, implementation of SOA-based integrations using middleware technologies
Portal transitioning to create powerful interactive communities
Strengthening interaction and communication through Salesforce communities and portal transition to create powerful interactive communities
Social and mobility services
Salesforce mobile application using Lightning components, mobile application integration with Salesforce.com, social media solutions to improve productivity and customer engagement
Remote admin and support
Available for customers anywhere across the globe