Accelerate Software Development, Reduce Time-To-Market With Our Agile Software Development Solutions
Agile adoption accelerates software development by swiftly accommodating changes, reducing costs and time-to-market, and enhancing quality. Combining agile and emerging technologies will accelerate your software competency and close the gaps between your IT systems and the evolving technology and business trends.

Agile transformation is comprehensive and iterative and is an important cog in the wheel of business transformation as it involves changing deep-rooted cultural patterns and processes. Although agile is becoming the driving force and de facto standard for software development, several organizations are at a crossroads while choosing the adoption path. The organization's culture and outlook are critical to its success. The right agile consulting services partner can help you address the challenges of choosing the adoption path and deliver projects efficiently.
Simplify Your Agile Journey With Our Agile Software Development Services
HTC helps clients to start their agile transformation journey, drive transformation, evolve continuously, and meet their business objectives. We focus on organizational cultural change and engineering excellence with customized role-based training for teams. We guide you through every step of the transformation to overcome challenges by identifying your critical business objectives, and aligning agile principles to your roadmap. HTC offers agile development services by combining "agile" and "lean," thereby helping you bring synergy across the three key aspects – people, process, and technology. We help you to take agile to the next level with wider and seamless adoption to deliver greater business value. Our Agile transformation services include:

AGILE ADVISORY SERVICES
Assess agile readiness, plan for agile transformations, and launch pilot projects

AGILE TRAINING SERVICES
Agile executive workshop, Agile leader bootcamp, and Agile academy for teams

AGILE COACHING SERVICES
Our coaches help you to adopt and improve Agile methods and practices, and reinforce best practices to provide additional velocity

STAFFING SERVICES
We can provide human resources to meet your short and long-term staffing needs for enabling your smooth transition
Our Agile Transformation Services
Agile transformation can be very complex and challenging. That's why you need to partner with us. Our trained agile transformation experts will collaborate with you early to set up an agile development environment, embracing the agile mindset and agile methodologies, including Kanban, Scrum, Lean, and CI/CD. Our tailored agile development services realign your software development processes for greater efficiency and scalability. It's time you talked to us about Agile.
Transformation strategy planning
Agility assessments
Change management
Training workshops
Targeted coaching
Transformation progress with reverse knowledge transfer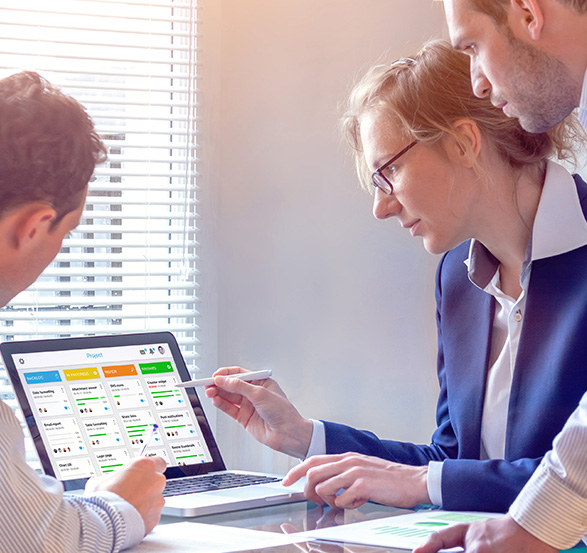 Related Resource
Success Story

Manufacturing
Global Manufacturer Switches To Azure DevOps For Its Collaborative Features