Rethink Productivity and Experiences with HTC's Revolutionary Service Desk
Expectations for and from the service desk are changing globally and across companies. As technology becomes ubiquitous while hybrid-remote work stays, the service desk takes the center stage to dramatically improve productivity, efficiency, and user experience. A powerful desk that leverages conversational AI, machine learning, and knowledge management tools, embraces shift left methodologies, and supported by skilled professionals is a must. Yet, for the CIOs and Service Desk leaders, it's tough to talk about such a strategy when time and resources are limited.
HTC's Service Desk is here to address this. As a modern, revolutionary 24/7/365 dedicated/shared desk that leverages the best technologies, professionals, and industry practices, it can become an extended arm of your IT operations. Our 22+ years of experience in building industry/department/application-specific desks, hundreds of global customers, millions of incidents supported, and most importantly, a keen focus on delivering unparalleled experiences are some of the reasons why you should call us now.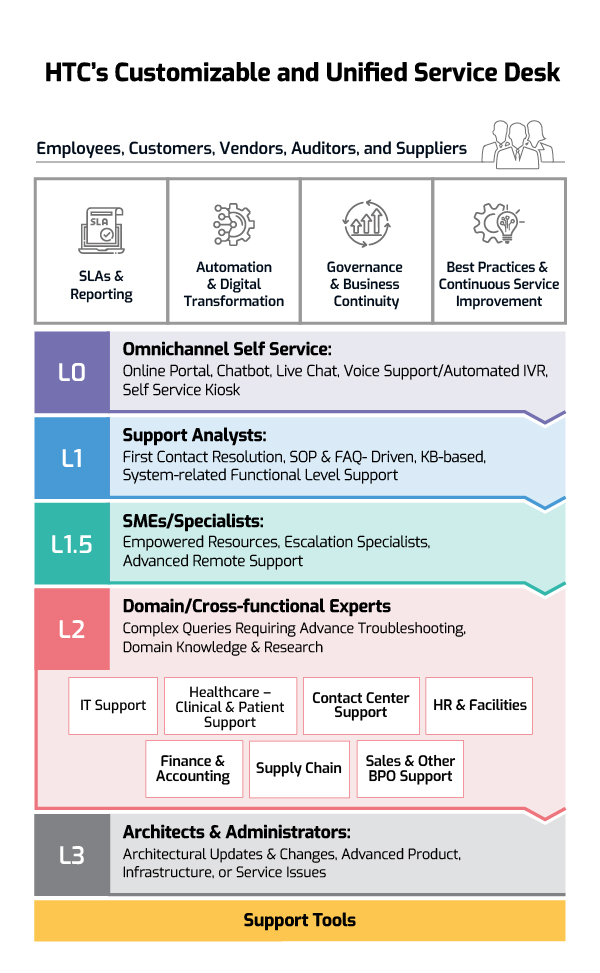 Reimagined Service Desks For Digital Businesses Of Today