Let HTC's InsurQA Help You Deliver Reliable Guidewire Transformation Programs
As a Guidewire partner, and with over 10 years of experience on the Guidewire platform and products, we have the people, processes, and technology required to wade through the challenges and complexities of testing Guidewire programs.

HTC's InsurQA Guidewire Test Suite, powered by our ready-to-use frameworks and reusable components, has helped P&C insurers to ensure their products are of the highest quality, get released on time, and deliver compelling experiences to the customers.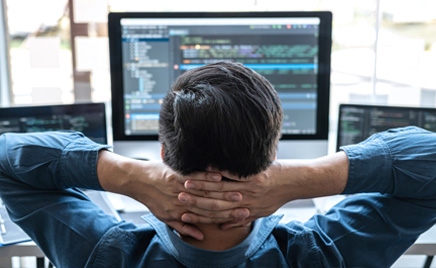 HTC's InsurQA Guidewire Test Suite- A Transformative Guidewire Testing Solution
HTC's InsurQA Guidewire Test Suite offers best-in-class quality assurance (QA) methodologies and next-generation QA solutions to ensure Guidewire projects are robust and production-ready. With the help of the test suite, we accelerate unit, integration, and regression testing for Guidewire implementations. HTC's InsurQA Guidewire Test Suite provides personal and commercial lines specific out-of-the-box(OOTB) features for testing claims, billing, policy, underwriting, rating rules, and forms management.
Turbo charge your Guidewire implementations with a best-in-class testing framework
Our solution incorporates best-in-class testing methodologies of MBT (Model-based Testing), RBT (Risk-based Testing), Behavior Driven Development (BDD), Test Driven Development (TDD), and a shift-left approach for stabilizing business validations early in the program.

QAOps (Agile + DevOps)

QA test environment management for multiple and parallel releases focusing at each sprint deliverables following CI/CD & Agile framework

Higher Product Accuracy

Business feedback from inception to in-sprints QA, product demo and play back sessions, UAT, stabilization and production release

Increase Test Velocity with InstantQA

OOTB ready to use scripts to test personal and commercial LOBs across policy, billing, claims, and portal modules during each sprint to deliver functionally accurate product

Forms Test Management

Test forms by extrapolating policy, claims and billing data before integration is complete, simulate existing full-stack environment to test forms in parallel to core modules development

Product & Data Migration

Pre-migration source data-readiness assessment using our accelerators, identify data quality gaps, cleanse data before migration and conform data schema to the Guidewire data model

Next-Gen Test Automation with IntelQA

AI-led QA Testing with IntelQA tailored to test PolicyCenter, ClaimCenter, BillingCenter, integrations and portal workflows functionalities with features incorporating self-healing, automation assistant, and adaptive-wait elements

All-in-1 Test Suite

Easy and simple- to-use framework that incorporates a holistic approach of maximizing functional, performance, regression, security, and ETL testing using pre-built test cases matured over 30 years using our quality engineers experience and knowledge of P&C products
Quick Benefits Of Using HTC's InsurQA Guidewire Test Suite
P&C industry-specific OOTB functional test suite that optimizes the testing cycle time and enhances testing coverage, leading to
Decrease in defects leakage by ~30% in the first quarter
Average QA cost reduction of 25%
Faster release cycle by up to 30% with higher accuracy
Up to 70% test automation coverage (functional, integration, regression & performance testing)
AI/ML-based testing approach using IntelQA leading to intelligent testing (self-healing, self-optimize)
Reduced 30% effort on traditional infrastructure management by moving to HTC's agile and cloud hosted test environment(s)