Amaze users, every day
Not so long ago, you would queue up in front of the teller in a bank to withdraw money. Then came ATMs, saving you time and trouble. Before long, you moved to online banking, checking balance and transferring funds in minutes. Today, your bank's app is on your phone and you can do all your banking in seconds on your palm-held device. And it took less than three decades for technology to transform your banking experience. What bigger proof can we give to tell you that technology is changing our world at the blink of an eye?

If the world is changing so fast, can your IT service management approach lag behind? How well and how quickly you can redefine your service delivery will determine whether you are able to retain your customer base and augment it. You have to amaze your users, be they end-users of IT or service desk members.

Experience ServiceFocus, an innovative ITSM product that leverages automation, AI, and Analytics to enable a shift from Ticketing to Resolution, amazing users in the process.
Features
Flexible Tenancy
Multi-tenancy with a shared or dedicated instance.
Customizable
Customize to reflect brand identity and cater to your unique business processes.
SaaS
Flexible licensing model with unlimited end user support, lets you sign up and get access to sandbox too.
Integration
Integrate with extensible APIs and ready-to-use adaptors for all your enterprise products.
Safe and Secure Access
Multi-Factor Authentication (MFA), Lightweight Directory Access Protocol (LDAP), and Security Assertion Markup Language (SAML).
Collaborate
Collaborate effectively with live presence, live chat, Kanban boards, posts, and discussion threads.
Ticket Trends and Escalations
Get the most out of self-heal, understand end user intent, automatically route tickets, and resolve issues.
System Auto-escalate
Identify patterns and trends, and auto-escalate the tickets.
Voice Services
Obtain actionable insights through sentiment analysis and visual interactive voice response (IVR).
Mobile
Approve, assign, check statuses, and get real-time notifications to manage and respond to incidents faster.
Conversational Bots
Use invasive (script-based) and non-invasive (RPA tools) techniques to resolve issues faster.
Mean time to resolve (MTTR)
Reduce MTTR through self-heal, self-help, and auto route.
Real-Time Metric Dashboards
Get real-​time insights on-call, QA, and ticket performance metrics.
Reports
Ad hoc reporting tool and visualization boards for trend analytics and plenty of canned reports that are subscription-based.
Form Builder
Drag and drop configured properties using pre-built business and technology components.
WorkFlow
Configure processes to suit varying business needs with an efficient workflow management engine.
NLP Engine
Predict and understand IT support tickets with a knowledge base (KB) search powered by natural language processing.
Monitoring
Get automated event monitoring for SLA tracking, missed FLR, and high ticket tracking.
Forecast
Proactively assign workforce based on volume predictions.
Modules
Easy-to-adopt, intuitive user interface
Create incidents using a bot-driven interface that auto-populates the top categories, types, items (CTIs).
Automate functions and integrate with Robotic Process Automation (RPA) tools for self-heal and self-help.
Reduce MTTR by automatically routing incidents and service requests to appropriate support groups.
Increase user adoption via an easy-to-use, intuitive user interface.
Enable fast resolution using collaborative features such as live presence, swim lanes, Kanban board, and live chat.
Build forms and configure custom workflows easily.
On-the-go mobile application
View and acknowledge tickets in real time.
View real-time notifications.
Approve and deny change and service requests.
View on-call support teams.
Create incidents.
Obtain help from chatbots.
Scan assets to create tickets.
Change Enablement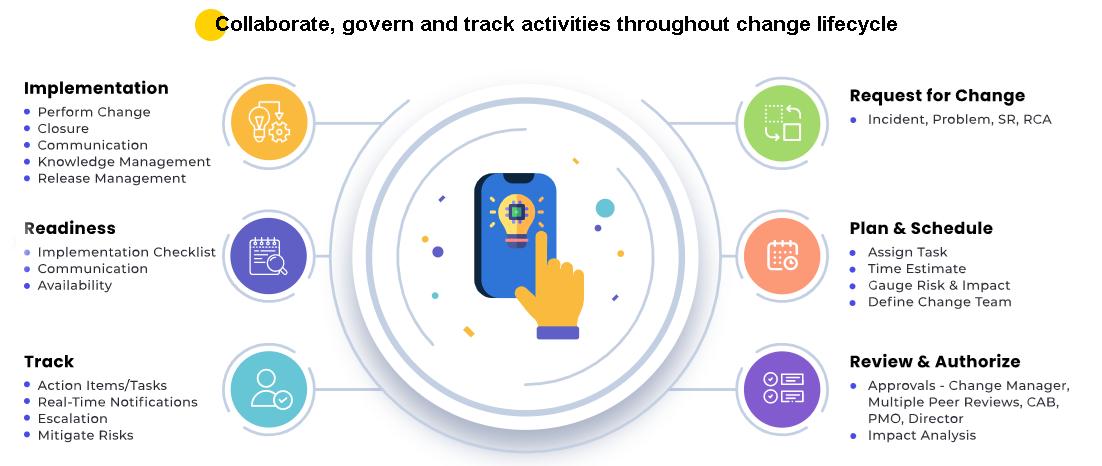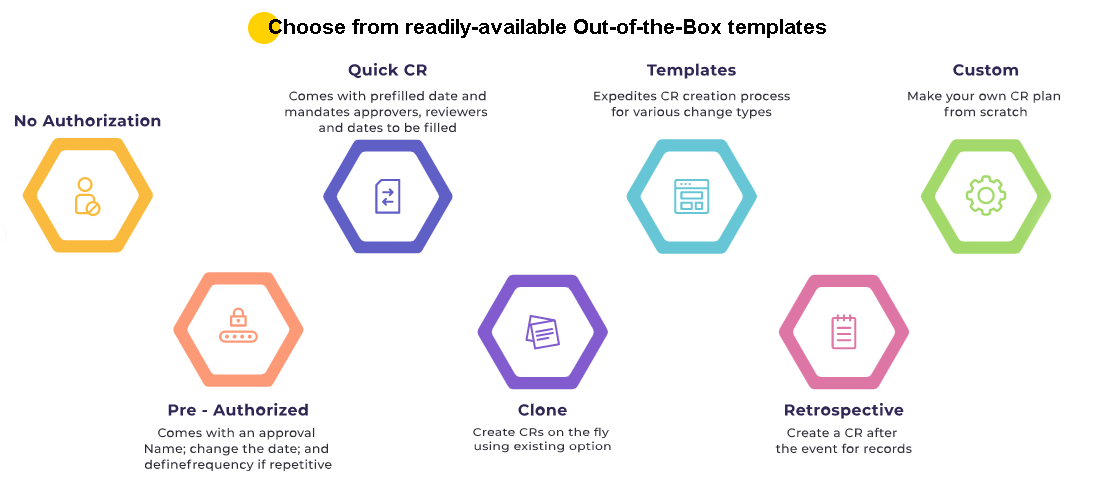 Knowledge Management
Easily access the right knowledge articles using powerful intent-based search for faster resolution.
Bookmark frequently used articles.
Refer to out-of-the-box best-practice knowledge articles for support.
Fully integrate with incident, service request, and Change Enablement.
Manage the full life cycle of knowledge articles: expiry, feedback, edits, etc.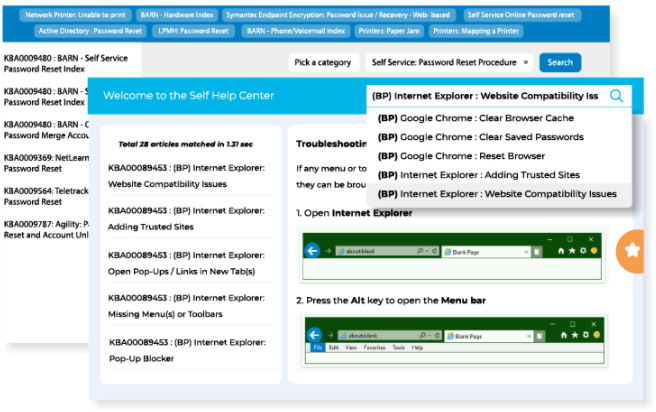 Problem Management
Receive alerts from crawlers that identify patterns with similar categories, types, items, buildings, groups, users, and devices.
Obtain solutions and knowledge articles during the problem creation process.
Get linked incidents alert while resolving parent incidents.
Get associate problem tickets while creating change requests.
Assets Management

Service Configuration Management
Fully integrate with Change Enablement and Asset Management.
Use off-the-shelf discovery tools calibrated by ready adapters.
Go granular based on organizational needs; define configuration items (CIs), sub-CIs, and service types.
Assess change and track critical assets with visual representations and reports.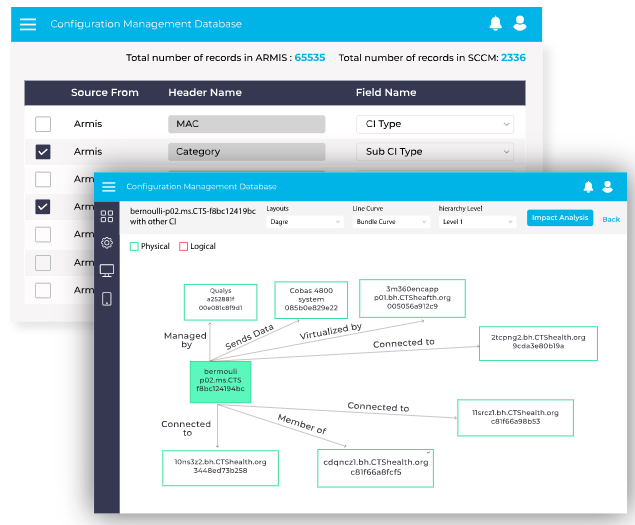 Service Level Management
Configure SLA for various processes such as incidents, service requests, and Change Enablement.
Set time-based and status-based goalposts for the life cycle of various business functions.
Attach notifications, escalations, and breach rules at each goal post.
Integrate SLA management with WorkFlow, live presence, email, and mobile apps to collaborate, remind, and track progress.
Set a start, pause, and stop SLA clock to factor subset SLAs (vendors, third-parties, etc.).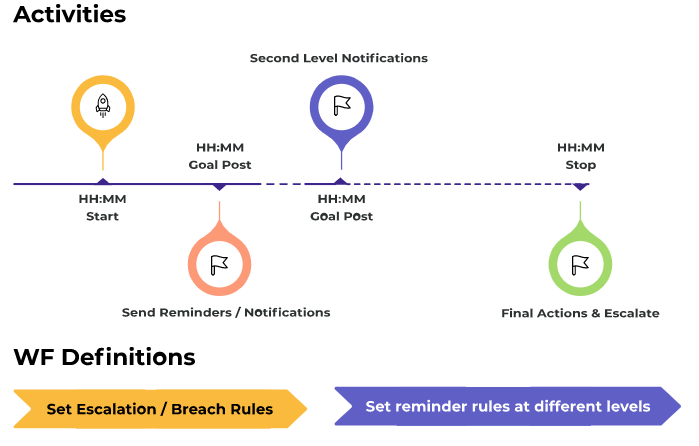 Quality Assurance
Achieve higher Customer Satisfaction (CSAT) percentage with 360-degree feedback.
Configure survey sampling percentage.
Configure rules to handle surveys by department, group, category, type, and item.
Configure the number of reminders, intervals, and expiry rules.
Auto-process and escalate both qualitative and quantitative feedback.
Easily create survey forms in no time.
Visualization and Reports
Executive Dashboards

Access out-of-the-box dashboards with 100+ tiles on various key performance indicators (KPIs) and metrics.
Drag and drop visualizations on various metrics.
Build custom dashboards using ready and custom tiles.
Export data in HTML, CSV, and Excel formats.
Share dashboards to collaborate.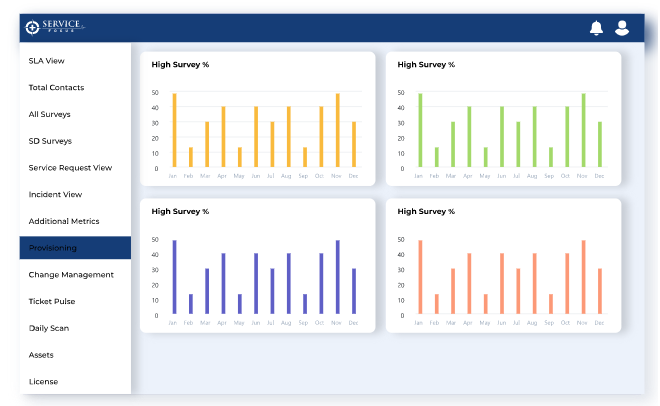 ReadyQ
Run ad hoc queries in no time.
Choose from 100+ readily available queries.
Use pivot and other drill-down functions for increased granularity.
Build complex queries, joins, aggregations, and formulae using an intuitive interface.
Collaborate by mailing and subscribing to relevant reports.
Export data in HTML, CSV, and Excel formats.
Reports
Get drill-down data for deeper insights.
Easily configure and dispatch reports from pre-existing templates.
Receive go-live reports for product launches and upgrades in Command Center dashboards.
Make decisions using trend analytics.
Configure when (subscription-based schedule) and how (via email, secured file transfer protocol) to receive reports.