Rev up with Duck Creek and HTC
You need robust core, front-end, and back-end solutions to keep up with the transformation drive underpinned by the dynamic changes in the insurance landscape.

We are a proud strategic partner of Duck Creek Technologies. HTC's Duck Creek Practice offers systems implementation, integration, migration, and support services for the Duck Creek Platform, which includes on-premise and cloud-based policy, rating, billing, claims, data insights, and digital engagement solutions.

Our decades of industry experience, comprehensive accelerators and automation suite, and ready-to-scale DuckCreek-trained experts make us the preferred partner for several commercial, specialty, and personal line insurers.

Talk to us for Duck Creek; let your transformation never stop with the industry-leading technology and our committed partnership.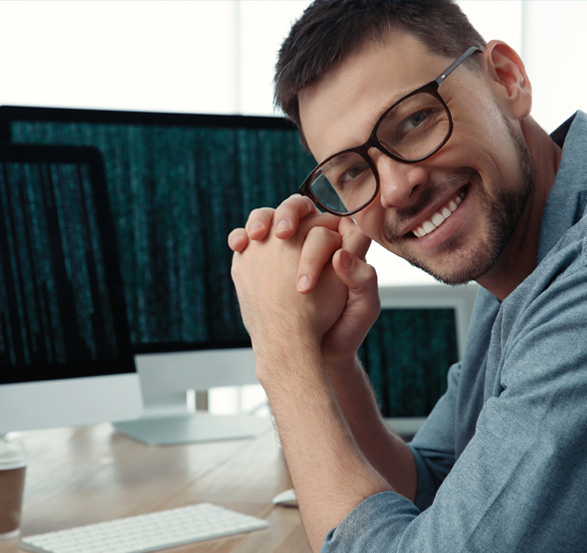 Our capabilities
Duck Creek Greenfield Implementations : Bring predictability and ensure an on-time, within-budget implementation for your Duck Creek Policy, Rating, Claims, Billing, and Duck Creek OnDemand projects. Leverage our end-to-end-services, powered by industry best practices, and our rich Duck Creek accelerators portfolio to spur your core modernization drive.

Duck Creek Insights : Jumpstart your data-driven transformation with Duck Creek Insights. We have the methods, tools, and expertise in helping you implement Duck Creek Insights effectively so that data becomes your strategic asset.

Duck Creek Application Maintenance and Support : Get the power of our Duck Creek production support and application enhancement services. Save cost by migrating to/implementing the right solutions and avoid repeated incident and premium leakages through exhaustive testing. We support Duck Creek Policy, Billing, Claims 6.X and 7.X versions.
Our Duck Creek accelerators
Our prebuilt frameworks, templates, and plug-ins are designed to address challenges across the different phases of the application lifecycle. As a result, you get to benefit out of faster implementations and reduced costs.

XMPLIFIER

Automate the process of reviewing extensive XML data with HTC's XMPLIFIER that turns results accurately and requires zero to minimal customizations. Designed for Duck Creek Manuscript Templates, it also supports other ACORD XML structures.
HTC and Duck Creek – the winning combination for carriers
For 25+ years, HTC has been the technology partner of choice for many leading P&C and life insurers in the US and across the globe.

Our global team of over 2,400 experts is currently engaged with over 55 Insurance companies.

We have a strong Duck Creek Insurance Practice that sees many Duck Creek practitioners successfully driving implementations, upgrades, to maintenance and support.

For those carriers looking to take advantage of the cloud by deploying "Duck Creek On-Demand", we have the infrastructure, unique assets, capabilities, & partnerships.